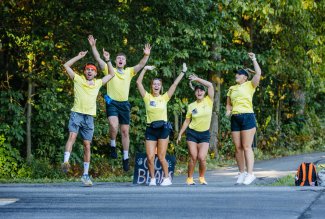 When most Polar Bears move to campus on Aug. 16, and as Welcome Weekend commences to help students ease into the fall '23 semester, Ohio Northern University's decade-long Orientation Leader (OL) tradition will again be evident. Becoming a college student or transferring to a new campus can be daunting. OLs make this important rite of passage much less so by providing guidance, answering questions, and much more. In the process, they learn a lot about themselves, too.
 
In fact, these volunteer student ambassador roles are so coveted that candidates undergo a rigorous and highly competitive selection process.
 
This fall, there will be 57 OLs representing Ohio Northern's Arts & Sciences, Pharmacy, Business Administration and Engineering colleges. Seven of them will serve as coordinators tasked with supervising OL teams and helping with the planning and training process leading up to the main events. This year's OL welcome-wagon theme, so to speak, is the Wild Wild West.
 
"We try to have fun with it," said Jennifer Lambdin, director of student involvement. Lambdin spearheaded the OL program and has since developed it into a large, fine-tuned operation.
 
To be chosen as an OL, students undergo an application process that requires them to share more about themselves and why they're interested in volunteering. Lambdin said creativity has come into play for some applicants, with videos, poems and more being submitted. Even veteran OLs who already know the ins and outs of Move-in Day and Welcome Weekend must reapply.
 
Although this volunteerism is strenuous – OL's can expect to serve up to 16-hour days — candidates still clamor to become an OL, thus showcasing the caliber and dedication of ONU's service-oriented and ONU-loving Polar Bears.
 
"By the time the first day of classes rolls around, they're exhausted. And, they're not getting paid. They get free meals and a T-shirt. But we typically do have a huge amount of interest from students wanting to do this, usually over 100 interested students each year," Lambdin said. The reason: "I think they just genuinely have a really good time," she explained.
 
Bonding activities such as off-campus trips, icebreaker activities and physical challenges that promote teamwork also garner attention. For instance, "Covert Klondike" anonymously matches OLs for a gift-giving Secret Santa-type adventure that helps team members learn more about each other.
 
"When I was a new student, I remember the OLs just having so much fun no matter the circumstance and I met a lot of OLs who were super helpful to me when I was a new student as well," said Rachel Murray, a civil engineering major from Westerville, Ohio, who was an OL during her sophomore year and will serve again this fall. "I am super passionate about ONU and love sharing all of the awesome things that ONU has to offer with others. So, I figured being an OL would be one of the best ways to continue doing that."
 
Positive feedback from students has encouraged Murray, too. "It is so cool to know that even the littlest things make an impact and leave an impression on others and I love hearing about how my new students are doing later on in the year!" she said.
 
Senior mechanical engineering major Ryan Chen, a Van Wert, Ohio native who will be serving as an OL for a third time this fall, said he loves "being able to interact with new students and watch them come out of their shell." Personal rewards have followed.
 
"My biggest challenge was coming out of my own shell," Chen admitted. "I was really shy my freshman year so I was nervous I wouldn't be able to interact with the new students the way I had hoped. Thankfully, the energy and environment of the OL program seamlessly brought out an extroverted side of myself that I didn't know existed."
 
Junior Christine Lawver's first OL during her freshman year inspired her to become one herself. Her OL "transformed my Welcome Weekend experience and acted as a mentor for me throughout the years. My OL made me feel like I had a friend during the difficult transition to college and I wanted to provide that same friendship to nervous new students," said the marketing and management major from East Sparta, Ohio. This year, she'll serve as a coordinator.
 
One of the best OL experiences for senior biology major Benjamin Arthur, who will be a three-time OL, was learning that information he'd provided to a family the previous year had made a difference. "I had given a tour to a young man interested in neuroscience/biology and the next Welcome Weekend both him and his parents came up and thanked me for helping with his college decision," said the Cincinnati, Ohio native. "Being able to introduce him to campus and then welcome him the next fall was the biggest reward I could ask for."
 
As this year's OLs prepare for Move-in Day, Lawver offered some advice for first-year students: Participate in ALL of the events. "It is so important that students understand each event of Welcome Weekend is designed with their best interest in mind," she pointed out. "We want students to have fun, make connections, and feel comfortable in their new home for the next four, five, or even six years.