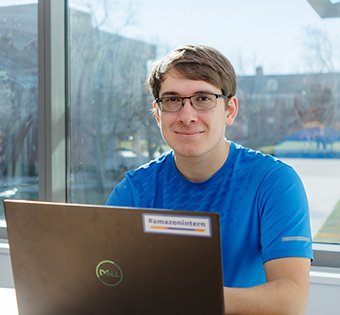 Next step: software development engineer for Amazon Web Services
Daniel Siatkosky followed in the footsteps of his dad to become a software engineer. At ONU, five internships, a diverse curriculum and student organizations prepared him to stand out in the field.
Possessing a keen mind for problem solving and process, Siatkosky double majored in computer science and data analytics with a minor in applied math.
In the computer science program, he received a strong foundation in data structure and algorithms. In the data analytics program, he was exposed to varied professors and courses, including math, stats, business, computer science, geography and marketing perspectives.
"Math and exploring nature are my two biggest passions," he says. So, he also took "a ton of cool math courses" and a field course for biologists at ONU. 
"A Number Theory course covered division from a perspective I never could have imagined, but it showed me just how fantastic math can be," he says. 
At ONU, he adds, three things stood out for him: the faculty, his fellow students and the academics. 
"The professors are all incredibly friendly and knowledgeable in their respective fields. The other students are also friendly and willing to help. Lastly, the education is very solid," he says.
Siatkosky participated in several student organizations, including the Institute of Electrical and Electronics Engineers (IEEE) and the Association for Computer Machining. One of his favorite experiences every year was participating in the hackathon competition, HackOHI/O at Ohio State University, with his ACM teammates.
Siatkosky also participated in five internships with four different companies. He interned at Paychex, Brookside Labs, Cooper Tires and Amazon. In these roles, he resolved security flaws in software; generated reports; developed benchmarking and analysis tools for internal testing and validation; and trained other interns.
"At ONU, whether you want to go into software development, cyber security or research, there's a professor who can directly help and many others who can provide input on any problem that may come up," he says.