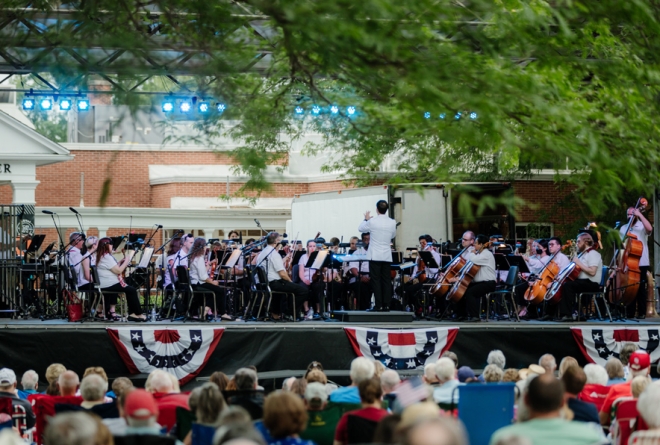 Start Date
Sunday, July 2, 2023 - 7:00 pm
End Date
Sunday, July 2, 2023 - 9:00 pm
Event Contact Name
Kirsten Osbun-Manley
Event Contact Phone #
1998
Event Contact E-mail
k-osbun@onu.edu
The Lima Symphony Orchestra's free, public Patriotic Pops concert will be held at Ohio Northern University on Sunday, July 2 at 7 p.m. Due inclement weather, the Eighth Annual Patriotic Pops has been moved to inside ONU's Sports Center in the Field House.  Doors open at 6 p.m. and the concert begins at 7 p.m. Concert-goers are welcome to bring chairs and picnic food inside.
 
This family-friendly concert will feature several Independence Day-themed musical selections. The LSO is under the direction of Maestro Andrew Crust.
 
The Inn at Ohio Northern University is also offering pre-ordered box meals for $15. Advanced orders are required by Thursday, June 29. Please call 419-772-2500 or email innonu@onu.edu.
 
This year's Patriotic Pops is sponsored by Quest Federal Credit Union, White's Honda Toyota of Lima, Middlefield Banking Company, Village of Ada, Haushalter Family Foundation, Vancrest of Ada, Connie O. Fleming, Hanson-Neely-Allison Funeral Home, Hardin County Chamber and Business Alliance, The Rogers Agency, Ada Kiwanis Club, Community Markets, Ada Rotary Club, Ada Area Chamber of Commerce and Carol Slane Florist.