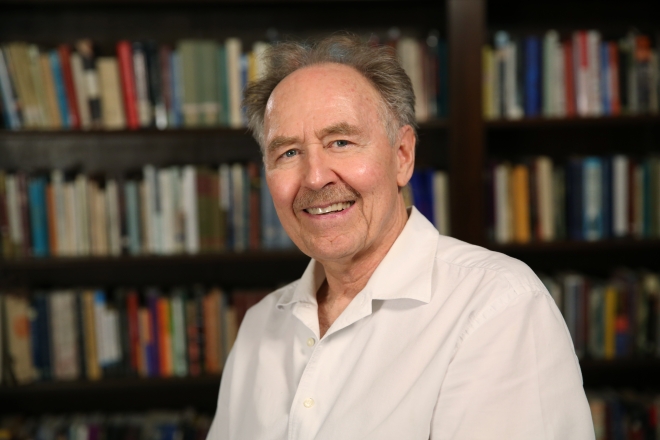 Start Date
Wednesday, October 11, 2023 - 7:00 pm
End Date
Wednesday, October 11, 2023 - 8:00 pm
Event Contact Name
Jennifer Moore
Event Contact Phone #
4197722105
Event Contact E-mail
j-moore.18@onu.edu
Please join us for the fall 2023 ONU English Reading Series, which feature will poet, translator, and essayist Mark Irwin and senior creative writing student Olesya Mertz. The reading will take place on Wednesday, October 11th, from 7-8pm in the Wilson Center Elzay Gallery of Art.
 Mark Irwin is the author of eleven collections of poetry, which include Joyful Orphan (2023), Shimmer (2020), American Urn: Selected Poems (1987-2014), Tall If (2008), Bright Hunger (2004), and White City (2000). He has also translated Philippe Denis' Notebook of Shadows, Nichita Stanescu's Ask the Circle to Forgive You: Selected Poems, and Zanzibar: Selected Poems and Letters of Arthur Rimbaud (forthcoming with Alain Borer). His collection of essays, Monster: Distortion, Abstraction, and Originality in Contemporary American Poetry, was published in 2017. Poetry and essays have appeared in American Poetry Review, The Atlantic Monthly, Harper's, Paris Review, Pleiades, Poetry, The Nation, The New Republic, The New York Times, and Tin House. Recognition for his work includes The Nation/Discovery Award, four Pushcart Prizes, two Colorado Book Awards, the James Wright Poetry Award, the Philip Levine Prize for Poetry, and fellowships from the National Endowment for the Arts, and the Fulbright, Lilly, and Wurlitzer Foundations. He is a professor in the PhD in Creative Writing & Literature Program at the University of Southern California and lives in Los Angeles and the mountains of rural Colorado. His poetry has been translated into several languages.
The reading will be followed by a Q & A session and book signing. Free and open to the public, the event is supported with a generous gift from Phil Oleson, BSPh '66, and Mary (Monstwil) Oleson, BSPh '70.