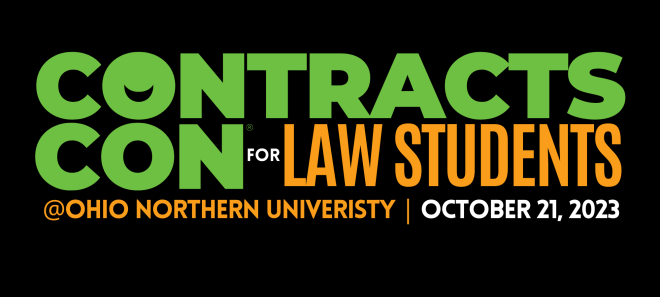 Start Date
Saturday, October 21, 2023 - 9:00 am
End Date
Saturday, October 21, 2023 - 4:00 pm
Event Contact Name
Lisa Lang
Event Contact Phone #
419-772-1022
Event Contact E-mail
l-lang@onu.edu
This event allows you the opportunity to solve the age-old problem - how do we bridge the gap between studying contracts in law school and knowing how to draft and negotiate commercial contracts on the job in the real world. We will introduce you to the world of commercial contracts that you may see in your future work. Our expert facilitators share approaches and techniques and our goal is to help you understand what we do when we work with contracts, how we do it, and why. You will leave with a personalized tool kit.
Click HERE to Register!
How to Contract© is partnering with Ohio Northern University to bring practical training, fun, and friendship of ContractsCon to law school students!
Start Date: Saturday, October 21, 2023 - 9:00 a.m.
End Date: Saturday, October 21, 2023 - 4:00 p.m.
Networking reception to follow
Event Location: McIntosh Ballroom
Fee: Free
Limit to 30 registrations then waiting list
Event Contact: Lisa Lang, l-lang@onu.edu