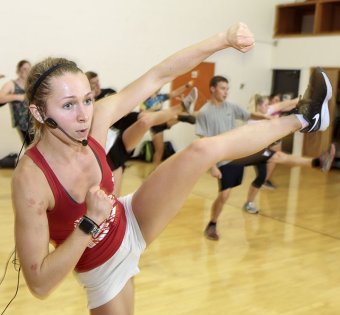 Pharmacy major Zoe Schilling is passionate about her chosen field, and her passion for fitness goes hand in hand. With a minor in public health, she knows all too well about the obesity problem in today's society. She decided that while she was still in college, she wanted to do something to help.
Zoe's passion for fitness started way back in the eighth grade when she started working out with Insanity, P90X and Jillian Michaels DVDs. And so the dream was born to become a fitness instructor one day.
At ONU, Zoe was drawn to Zumba, a Latin American-based style of dance and fitness, and she loved it so much that she wanted to teach others to love it too. She inquired about what it would take to become a certified Zumba instructor, and she found out that the Zumba instructor for ONU HealthWise, ONU's on-campus health and wellness center, was about the graduate. Here was her chance to jump in and make her dream a reality.
That was the final push she needed to go for it and obtain her Zumba fitness certification. She paid for a Zumba Basic 1 certification and participated in an all-day training class, where she learned the four basic styles of Zumba and the basic necessities of how to teach a class.
By starting "Zumba with Zoe," she successfully launched her career as a Zumba fitness instructor in the fall of her third year of pharmacy school, and it has been both a joy and a privilege for her. Not only is it an ideal on-campus job, but more importantly, she gets to share her passion for fitness and help others live a healthier lifestyle.
Of course, none of this would've been possible without ONU's warm, inviting atmosphere.
"If ONU wasn't such a small and friendly campus, I probably would not have become a Zumba instructor," she says. "Because the students and faculty are so friendly and accommodating, it made it easy to go for my certification and receive that extra motivation from my friends to pursue my dream and accomplish my goals. The people I see every day on campus are so supportive and encouraging."