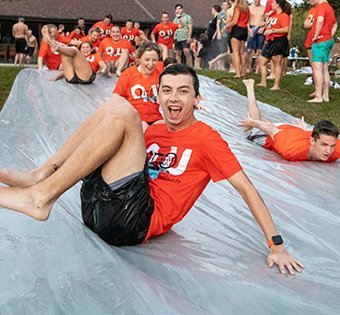 Some computer engineering students relish their interactions with machines, but Zak Kratowicz, a senior from Richwood, Ohio, is at his best around other humans, and it's precisely why he is flourishing at ONU.
"The environment here allows me to get super involved outside the classroom and interact with so many people that I never would have elsewhere," he said. "I've gotten to know students outside of my major, and interact with faculty, staff and administration in so many different capacities."
For Zak, "super involved" means being an active member of more than a dozen campus organizations, including a fraternity, Student Senate, and the student advisory boards for the University President and the Dean of the College of Engineering.
One of his favorite roles is working in the ONU Admissions office. He recently helped a prospective student in every step of his college journey, from giving him a campus tour to being his orientation day leader to meeting him and his mom on move-in day. "This experience will live on in my head because it helps me remember that there is a reason for everything I do," he said.
After graduation, Zak wants to work for a small engineering firm in research and development, then eventually attend graduate school to become an engineering professor. In his classes at ONU, he's witnessing exceptional teaching firsthand, and that's spurred his passion to teach one day.
"All of my classes are small enough that I feel comfortable with my professors. They know my name and we can really engage in the subject matter," he said. "They bring a passion to the subject matter that they teach and you can truly tell that they know what they are talking about and that they want to be there to teach you."