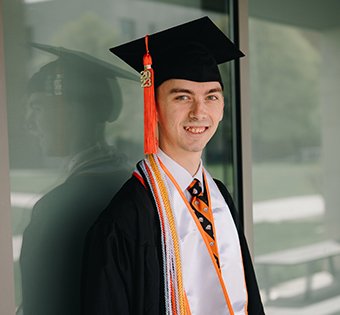 Next step: project manager at American Electric Power
Some computer engineering majors relish their interactions with machines, but Zak Kratowicz has always been his best around other humans, and that's precisely why he flourished at ONU.
"The environment here allowed me to get super involved outside the classroom and interact with so many people that I never would have elsewhere," he said. "I got to know students outside of my major, and interact with faculty, staff and administration in so many different capacities."
For Kratowicz "super involved" meant being an active member of more than a dozen campus organizations, including a fraternity, Student Senate, and the student advisory boards for the University President and the Dean of the College of Engineering.
One of his favorite roles was working in the ONU Admissions office. He once helped a prospective student in every step of his college journey, from giving him a campus tour to being his orientation day leader to meeting him and his mom on move-in day. "This experience will live on in my head because it helped me remember that there is a reason for everything I do," he said.
Kratowicz has landed a job as a project manager for American Electric Power in Columbus. He remains grateful for ONU's vibrant opportunities and caring professors.
"All of my classes were small enough that I felt comfortable with my professors. They knew my name and we were able to really engage in the subject matter," he said. "They brought a passion to the subject matter that they taught and I could truly tell that they knew what they were talking about and that they wanted to be there to teach me."