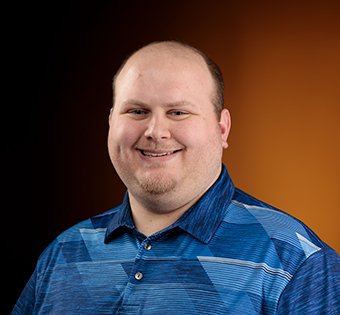 Zachary Dunn, BS '14, is currently a high school science teacher at Indian Lake High School, where he also coaches esports and helps with science club, and he is also an adjunct faculty member at Ohio Northern University.
Dunn is extremely thankful for his time at Northern. Not only did he develop expertise in science and teaching that he depends on every day, but he also discovered strengths within himself that he never knew he had – like his promising potential to lead others.
Often, it was thanks to mentorship and guidance from faculty and staff that Dunn was able to draw out these hidden strengths and take on new opportunities. One of these opportunities came in the form of applying for a prestigious national scholarship from the Barry Goldwater Scholarship and Excellence in Education Foundation. Dunn did undergraduate research under Dr. Trilisa Perrine, professor of chemistry, which he then used as fodder to write his application essay, and he received extremely helpful feedback and advice from Dr. Chris Bowers and Mary Drzycimski-Finn as he prepared his application. When he found out he had received the Goldwater scholarship, he knew where much of the credit was due.
BECOMING A GOLDWATER SCHOLAR HAD A MASSIVE POSITIVE IMPACT ON MY LIFE AND GOALS," HE SAYS. "WHILE BEING NAMED A GOLDWATER SCHOLAR IS A GREAT REWARD IN AND OF ITSELF BECAUSE IT IS SUCH A PRESTIGIOUS AND COMPETITIVE AWARD, THE FACT THAT THIS CAME WITH A SCHOLARSHIP WAS WHAT ALLOWED IT TO HAVE SUCH A POSITIVE IMPACT. THE GOLDWATER SCHOLARSHIP ACCOUNTED FOR $15,000 TOWARD MY EDUCATION OVER THE COURSE OF TWO YEARS. WHILE THERE WERE OTHER SCHOLARSHIPS AND GRANTS THAT HAD IMACTS AS WELL, THIS GOLDWATER SCHOLARSHIP WAS A MAJOR FACTOR IMPACTING MY ABILITY TO FINISH MY EDUCATION AT ONU WITHOUT ANY LOANS. THIS HAS ALLOWED ME MORE FINANCIAL FREEDOM POST-GRADUATION."