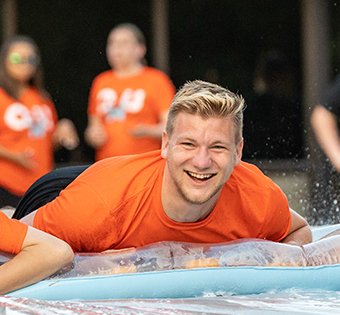 Zach Lenz views the pharmacy profession as a spectrum with research on one end and patient interaction on the other. "It's unique in that you can place yourself (on the spectrum) wherever you feel you can contribute the most," he says.
For Zach, it's toward the patient interaction side. Gifted at science, but also a born leader and communicator, it's the career path that seems like the right fit. 
And at Northern, this pharmacy major and leadership minor has been flexing his people skills non-stop. He's a senior resident assistant, the head bear of the Good News Bears program; a member of the President's Club; a Pharmacy Council class representative and a teaching assistant in the College of Pharmacy, to name just a few. He was also elected as royalty on ONU's Homecoming Court. 
"There are so many attributes I have gained through the numerous organizations that I have joined throughout my time at ONU," he says. "Most importantly, with the diversity of peers I get to work with, I have had the chance to actively listen and demonstrate characteristics of empathy, compassion and understanding; all which are critical to the profession of pharmacy.
Amazingly, Zach still finds time in his busy schedule to enjoy nature and the arts. ONU's beautiful campus, he says, is a great place to enjoy the outdoors. And, he's discovered a newfound passion for theater and music, thanks to ONU's vibrant arts scene. 
After graduation, he plans to pursue a residency at a hospital or ambulatory care center, where the knowledge and people skills he's cultivated at ONU will enable him to serve his patients at a high level. "It a surreal feeling, but I know that wherever my future career may take me, I will always have this place (ONU) as a home and I can relive the memories that shaped me into who I am today," he says.