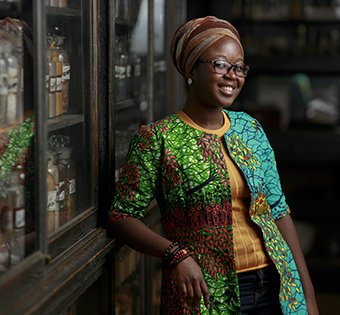 Yasmine Seidu had an interest in pharmacy from a young age, learning the importance of patient-focused medicine. Growing up in Ghana, she watched her uncle put this kind of practice into action as a medical professional, and although she didn't think about it much at the time, she would come to realize that she held a deep passion for helping others. That's precisely what led her to ONU.
"During my interview and orientation, the phrase 'patient-centered' was mentioned enough for me to wonder why I'd never heard of it before. This was because ONU was the first place I had heard that term and the first place I learned its true value to my future career," she says. "I knew that coming to this school wouldn't just make me a good pharmacist; it would make me a pharmacist who cares for her patient."
Other reasons Yasmine found ONU attractive was its ranking at the time of the third-best school in the Midwest, as well as the campus, which she says "was beautiful to me then and is beautiful to me now." The people of Ada were friendly to her from the get-go, and she valued the fact that ONU wasn't located in a large city.
Yasmine keeps busy, being involved in many organizations including Kappa Epsilon, Alpha Phi Omega, the Pennsylvania Pharmacist Association and Multicultural Planning Committee. She is also a founding member of the African Student Association and Sister 2 Sister, a student organization dedicated to supporting the personal and professional development of young women of color. Her favorite student organization is the Student National Pharmaceutical Association.
"It's challenged me in a totally different way than the previous positions I've held. Being one of the outreach chairs lets me use all the leadership skills I've built over the years, and it's actually a great way to see how far I've come," she says.
Yasmine's plans for after college include going into residency and eventually starting her own pharmacy.
To future students, she says, "Take a chance! Sometimes it's the small choices we make that have the greatest impact on our lives! Though ONU is a small school, it offers great opportunities that are unmatched. There's a supportive and friendly community of Ada residents, fellow students and professors that care that can't be found elsewhere."