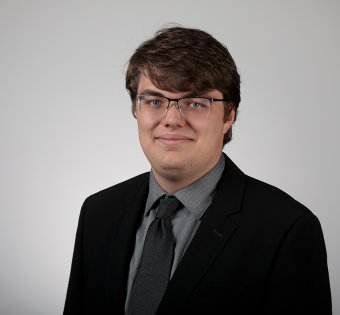 At Ohio Northern University, engineering education major Will Sierzputowski is becoming the best teacher he can be, while also acquiring a broad-based knowledge in engineering. The preparation he's receiving has made him confident in his ability to make a positive impact in the field of K-12 STEM education.
Growing up, Will always had a fascination with building and designing. He also enjoyed sharing knowledge with others and looked up to the great teachers he had over the years. He was so excited to find that Ohio Northern offered a niche program in K-12 engineering education – something not offered anywhere else nearby as an undergraduate program.
Will has taken a variety of classes in engineering to obtain a broad-based knowledge of multiple engineering fields. In additional to general education classes, he's also taken education courses specific to teaching engineering in a high school setting, which is what he aims to do after graduating. He's spent an average of 20 credit hours a semester observing and student-teaching in a high school classroom and has also had two summers of guided research with an ONU faculty member writing curricula for freshman engineering majors.
Outside of class, Will has been very involved in student organizations and service opportunities. Through the American Society for Engineering Education, he has volunteered his time to help put on special "STEM Day" events that engage elementary school students with the STEM fields through fun, hands-on projects. He's also fostered his passions for math, programming and robotics through various student organizations and honor fraternities.
THIS IS THE PLACE TO BECOME A HIGH SCHOOL ENGINEERING TEACHER," HE SAYS. "THE AREA OF STEM IS HUGE AND UP-AND-COMING IN THE EDUCATION WORLD, AND THE PROGRAM HERE IS DESIGNED TO TEACH YOU AS MUCH ENGINEERING AS POSSIBLE TO GO ALONG WITH YOUR TEACHING EDUCATION."