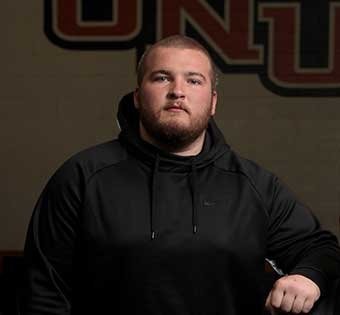 Ever since exercise physiology major Wil Rankin fell in love with football as a player, he knew he never wanted to leave football behind.
That's why he decided to pursue a career in strength and conditioning. His ultimate goal? To become a strength and conditioning coach for a Division I college football team. Thanks to his networking expertise and determined efforts, he was able to try his dream on for size the summer before his senior year as a strength and conditioning intern for the University of Oregon football team.
Before he left for the West Coast, he knew Ohio Northern's strength and conditioning program had laid a strong foundation for the experiences to come. He felt well-prepared and ready to help coach premier student-athletes of a respected nationally acclaimed team.
As a player-turned-coach, he benefited from both perspectives during the internship. His background as an ONU football player helped him connect with the players he was coaching, and being on the flip side as a coaching intern helped him understand how his actions and guidance affected the players' workouts and, accordingly, their performance on the field.
The internship gave him a good picture of what he could expect in his future career. The facilities, equipment and resources he had access to were top-of-the-line. He was expected to perform at 100 percent 12-plus hours a day, and everything he did was scrutinized. The intensity was unlike anything he'd experienced before, but it also provided an unprecedented high-impact learning opportunity.
More importantly, though, the experience helped him develop a roadmap for his future career.
"My No. 1 takeaway from this experience is that I know now exactly what is needed in the future to get where I want to be," he says. "I was under great leadership that showed me the way once I get a job and explained what I need to do between now and graduation and then after graduation. I had an idea of what was needed, but they mapped it all out for me."