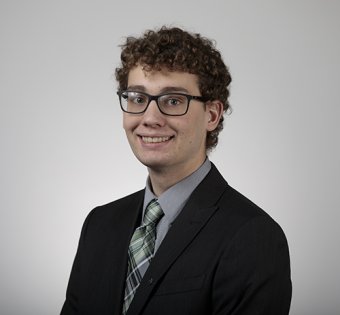 Civil engineering major Trevor Bert was always wired to be an engineer, and when he started his college search, that was what he was looking for – an excellent engineering program at a smaller school. He found Ohio Northern University through a college search software, and ONU, as he puts it, "quite literally checked all the boxes."
Trevor knew he wanted to study civil engineering, but before college, he thought civil engineering only involved roads, bridges and buildings. That all changed once he came to ONU.
His sophomore year, Trevor took a curriculum that covered five different fields in civil engineering, broadening his understanding of the profession and all the job possibilities that exist in it. He learned about transportation engineering, and he took a field trip to the Transportation Research Center in East Liberty, Ohio, where he got to visit the test track and see the "behind the scenes" of vehicle testing. Just like that, a passion was ignited.
But it wasn't just academics that made ONU the best choice for Trevor. It's been groups like the ONU Marching Band and Theta Chi fraternity that have complemented his studies in a way that further enhances his college experience. He enjoys all the experiences and traveling he gets to do as a member of the band's color guard, and he has forged strong bonds with his fraternity brothers that will last for years to come.
"ONU provides a unique environment because while it may seem that a smaller school provides less opportunities, the opposite is actually true," he says. "The fact that the school is smaller gives you the chance to grow closer with your professors and peers. I feel like I am more able to talk to my professors one-on-one, be it during office hours to get help on an assignment or during a picnic held by the department. This is an experience that you won't get at larger schools, and it helps make ONU feel more like a family than just a school."
Trevor is from Ambler, Pa. – over 500 miles away from Ada, Ohio, but word of Ohio Northern still reaches back home, as evidenced by his grandpa, who proudly sports an ONU hat in support of his grandson. From time to time, he calls Trevor to tell him how somebody has recognized ONU and has heard it's a great school to attend. To Trevor, that says it all.
"To hear about how widely known a school of 3000 is, no matter where you go, and to hear the pride in his voice when he talks about it really helps me to reflect and recognize the opportunities I've been given here, and how, thanks to that, I'll be able to make my mark on the world."