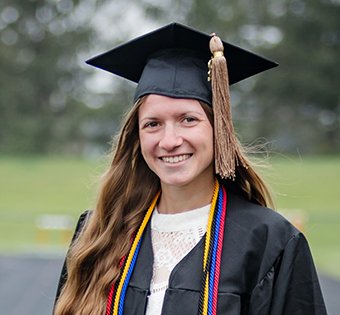 Tessa Pitcovich loves running and running the numbers. At ONU, she is doing both with great success.
The accounting major and cross country and track athlete has found a supportive community at ONU, and that's made exploring all her passions possible. In addition to caring professors, coaches and friends, she loves the "homey" Ada village and ONU's loyal alumni network.
"When you go to school in a small town, the whole town feels like your campus," she said. "I run through town with the team every day and appreciate the community where I go to school in so much more. Also, I feel like whenever I travel somewhere else, there is always someone that yells 'Go Bears!' at me!"
Tessa discovered her interest in business as a high school student working on the school yearbook. She chose accounting because numbers come easy for her, and she knows accounting is foundational to business operations. "An understanding of the financials of a business will be helpful no matter what job I end up in," she said.
At Dicke College, she's taken advantage of numerous opportunities to build skills in leadership, communication and teamwork. She sits on the dean's advisory council, is an active member of Beta Alpha Psi, and she's CFO of Polar Merchandise, LLC, handling all financials and taxes for the student-run business. She also completed an internship at Marathon Petroleum on the internal audit team.
"My biggest passion outside of my studies is running," she says. "Being apart of the teams here allows me to continue running competitively and be a teammate. I met some of my closest friends through the sport."
Tessa graduated in May 2022 with her bachelor's degree in accounting, with minors in entrepreneurship, business analytics and psychology. She is continuing at ONU to obtain her master of science in accounting. "I can continue to run for the team and use my remaining eligibility while also gaining my advanced degree," she said, adding that ONU's MSA program will thoroughly prepare her for the CPA exam.
After completing her MSA, Tessa hopes to someday launch her own business. "Each area of study I have chosen (at ONU) has given me knowledge that I can one day apply to that business," she said.