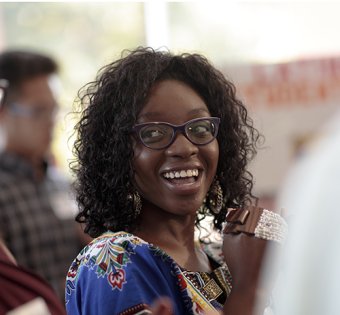 Pharmacy major Temi Omitowoju is following her destiny at ONU, and her passion for medicine drives her through pharmacy school. 
Coming from a family of health care professionals, going to pharmacy school was a no-brainer.
"I have always been a caring person who wanted to do more. Health care made sense; I just had to figure out where in health care I wanted to go. But it does help that my mom predicted and insisted that I'd be a pharmacist when I was 8 years old. Fast forward over a decade later, and here we are – Ohio Northern University Raabe College of Pharmacy," says Temi. 
Becoming a pharmacist always seemed to be in the cards for her, and Ohio Northern couldn't have been a better fit.
"ONU found me. I had already gotten my bachelor's from Ohio State University, and I wanted to further my health care career. My OSU advisors were pharmacists, my mother is a pharmacist and even my brother attends ONU [earning the same degree]. The school was practically calling my name, and I wanted a smaller but high-level university to attend."
Her passion for school and her career has shown in the organizations she's involved with, which include African Student Association (ASA), Sister 2 Sister (S2S), Alpha Phi Omega (APO) and the Academy of Managed Care Pharmacy (AMCP). These organizations have helped her build stronger leadership skills.
"When I was the secretary of ASA, it helped me improve my organization skills, forced me to learn how to network, channeled my creativity, helped me understand working with diverse people and gave me more confidence as an individual. Now I am the president of the organization, thanks to the confidence my peers had in me." 
Temi's plans for after college are to either go into retail pharmacy or into an inpatient pharmacy as a critical care pharmacist. 
To future students, she says, "ONU is best understood by those who go here. Take time to talk to the faculty and students. Not only are they friendly, but they give an honest opinion about expectations, involvement and overall environment of the school. ONU is great for focusing on your studies, but it also balances out the need for community. Above all, it gives you the space to grow and truly discover what it is you want to do with the rest of your life."