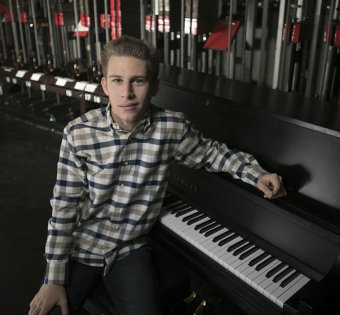 Musical theatre major Stephen Coakley has an innate talent for both performing and composing, but it wasn't until he came to Ohio Northern University that he realized he could channel both of these passions into a career in theatre.
Coakley found several ways to sharpen his composition skills both inside and outside the theatre program. In addition to taking composition classes through the Department of Music, he composed for two musical theatre productions and music-directed three productions in the Department of Theatre Arts. Still, he wasn't exactly sure what kind of role his knack for composing could play in his future career in theatre, if any. At the conclusion of his sophomore year, a unique opportunity to showcase his work became a tipping point.
During his sophomore year, the theatre department put on Elysium, a new musical written and composed by Yianni Papadimos and Ben Chavez, two rising artists in the theatre world. Coakley was assistant music director for the production, and thus, he developed a working relationship with the two when they visited ONU as guest artists. In passing, Chavez mentioned an event that helps many young theatre artists get noticed – the New York Musical Festival. This annual musical theatre festival presents fresh new productions, concerts, readings and special events, including a concert entirely written, directed and performed by college students.
Coakley decided to send in a composition submission for the festival with three songs he'd previously written. About a month after applying, he was surprised to find out that one of his songs had been chosen to be performed at the festival. Although he wouldn't be singing it himself, he decided to attend the festival in New York City to see the performance.
To him, it was more than just a neat experience; it helped him turn a corner. It opened his eyes to the feasibility of composing for theatre productions as a career path.
"To see these young artists who are out there performing, but who are also writing and composing, was perfect for me," he says. "I am a performance major, and I still have a love for performing, but I don't prioritize it more than composing. I love them both equally. Not really until college did I think of it as a career that you can actually pursue, and then bringing in Ben and Yianni just solidified that this is an option. It allowed me to find my niche."