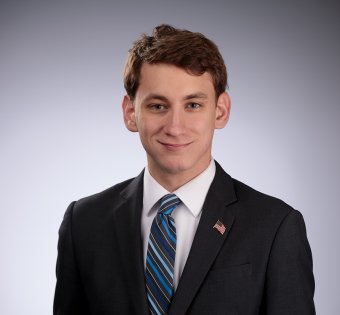 Seth Ferguson, BA '19, admits to a "nearly unhealthy obsession" with elections – both domestic and international. So majoring in political science and history at ONU proved to be a perfect choice.
Early in his college career, Seth was advised to "never say 'no' to an opportunity" by ICAPP director and professor of political science Dr. Robert Alexander, BA '94. Seth took the advice to heart.
At ONU, he worked on the Northern Poll, gaining valuable experience in opinion poll design and analysis. He served as president of the Student Senate, which earned him a seat on the ONU board of trustees. He presented his senior thesis in Washington D.C., participated in the 2016 Republican National Convention, and was active in Model UN.
Currently, Seth is working on his master's degree in public administration from the John Glenn School at the Ohio State University. His goal is to work for a Secretary of State office at the state level.
BEING IN A GRAD PROGRAM WITH A COHORT OF STUDENTS FROM DIFFERENT SCHOOLS, I CAN CLEARLY SEE THE ONU DIFFERENCE. I HAVE SOLID SKILLS IN COMMUNICATION – BOTH WRITTEN AND ORAL – WHICH NEARLY EVERY JOB IN PUBLIC AFFAIRS REQUIRES. AND BEYOND THE CLASSROOM, ONU PROVIDED INCREDIBLE PROFESSIONAL EXPERIENCES LIKE NORTHERN POLL AND VARIOUS INTERNSHIPS THROUGH THE WASHINGTON CENTER."