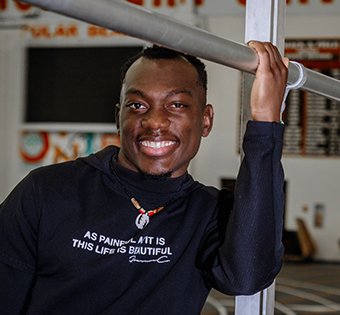 Scholarship enables exercise physiology student to reach for his life's goals
ONU student Selorm Adehe, from Grove City, Ohio, is the grateful recipient of the Cleo and Dorothy Ludwig scholarship.
Established in 1981 by Dr. and Mrs. Cleo Ludwig, the award is for students with high academic achievement and a demonstrated financial need. Dr. Ludwig was co-founder of the L-K chain of restaurants and motels and served as a member of the board of trustees at Ohio Northern University.
Selorm says the financial gift has "helped me worry less about the costs and about working, so that I am able to concentrate more on my studies."
He also appreciates that the scholarship has made it possible for him run track with fewer financial concerns.
"It is a reflection of my hard work, also with the help of my family," he notes. "I can keep striving forward and set higher goals for myself."
ONU was the perfect choice for Selorm, he says, because it helps him be more specific and focused on what he wants to do.
A lover of movement, Selorm chose to major in exercise physiology.
"I've been in sports my whole life, and people often ask me for advice on weightlifting and running," he says. "That process intrigued me enough to study how the body moves during exercise. I want to help people."
An internship at a training facility as a strength and conditioning coach helped him envision life after college. At this point in his college career, Selorm is considering a studying for a master's degree in exercise physiology.
Being involved in track and field and the African Student Association (ASA) helps round him out, he says. And more. "The ASA puts me more in tune with my African heritage and makes me want to know more about it. It is good to meet others who share my background and interests."
The future exercise physiologist is working hard and moving step-by-step along the path toward his future.