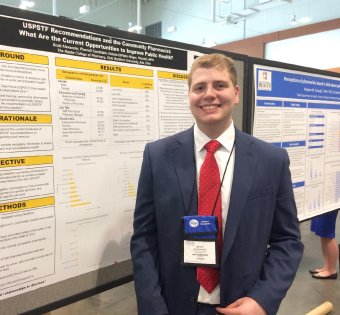 At Ohio Northern University, pharmacy major Scott Alexander has accumulated a great deal of professional experience and high-level recognition, including co-authoring multiple peer-reviewed articles, presenting at state and national meetings, and conducting research alongside his professors.
A member of the ONU Honors Program, which offers ONU students unique learning opportunities to expand their horizons during college, Alexander completed an independent research project under the tutelage of Natalie DiPietro Mager, professor of pharmacy practice.  The project sought to determine if Ohio community pharmacists were performing recommended screenings services in their places of work.
What resulted from this project was significant experience and high-impact learning. He was invited to present his research at state and national meetings, and he co-authored two peer-reviewed articles on the topic. In addition, it led to follow-up research through a capstone project for the ONU Honors Program. In May 2020, Ohio Pharmacist, a publication of the Ohio Pharmacists Association, published the article "What Role Can Pharmacists Play in Preventive Medicine?", which Alexander co-authored with DiPietro Mager.
"Our article focused on the existing tools that community pharmacists can use to help put these services into practice," he says. "It just seemed like the next logical step, after conducting research into who is performing these services and what barriers exist, to suggest tools that can be used to implement these services."
Alexander is especially thankful to the ONU Honors Program for offering him opportunities like these to realize his full potential.
THE HONORS PROGRAM HAS BEEN A GREAT ADDITION TO MY COLLEGE EXPERIENCE AT ONU," HE SAYS. "IT ALLOWED ME TO HAVE TWO EXTRA PUBLICATIONS ON MY CV AND ALSO PROVIDED THE OPPORTUNITY TO TAKE EXCITING CLASSES THAT EXIST OUTSIDE OF PHARMACY YET MATTER TO MY EDUCATION AND PERSONAL GROWTH."