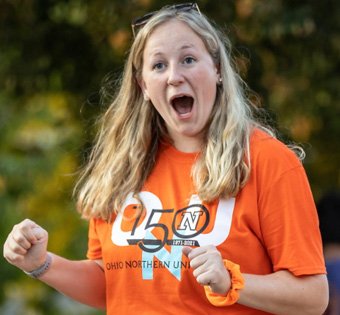 Sara Bockelman's three favorite things to do are travel, help people and make people laugh. At Ohio Northern, this gregarious pharmacy student has done all three in spades.
Sara has helped build homes for people in need in South Carolina with the ONU chapter of Habitat for Humanity. She's given countless campus tours to prospective students and assisted with Welcome Weekend as an orientation leader. She is also actively involved in six additional student organizations, including the Kappa Alpha Theta sorority and Pharmacy Council. "ONU has given me the opportunity to grow and develop my leadership skills within the wide variety of student organizations on campus," she says.
One of Sara's most treasured experiences was being crowned to the Homecoming court during ONU's sesquicentennial year. Her Theta sisters were on the sidelines, cheering her on and taking pictures. "Being part of the court while celebrating our 150th year is something I will always hold close to my heart," she says.
Growing up, Sara gravitated toward the idea of working in healthcare. Her mom, a nurse, spoke highly of pharmacy as a flexible and impactful career. In high school, Sara attended a pharmacy camp at ONU that solidified her choice. "This unique experience really sold me on pursuing a career in pharmacy and also put ONU at the top of my list of schools I was considering attending," she says.
Sara recognized the value in ONU's 0-6 direct entry pharmacy program and its supportive and extensive alumni network. This network is benefiting her as a pharmacy intern at the Cleveland VA Medical Center. "I am surrounded by multiple ONU alum and I love talking with them about their (ONU) experience and what has changed," she says. 
After graduation, Sara is leaning toward a career in direct patient care, but she hasn't ruled out pharmacy administration, and is obtaining a minor in leadership studies.
"I am proud to be an ONU student because I know everyone here truly wants each other to be successful," she says. "We have such a supportive and collaborative community and every day I am thankful I decided to attend ONU."