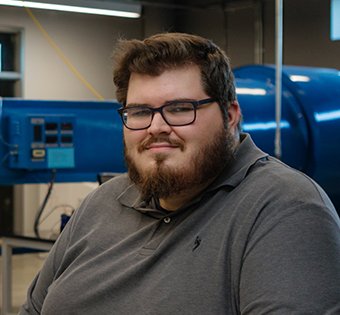 Scholarship support enables mechanical engineering major to focus on his studies
As a recipient of the Doug and Renee Leuthold Scholarship, senior Sabastian Stetten deeply appreciates having been given the opportunity to concentrate on his education without having to figure out his academic journey from a purely financial perspective.
"The scholarship allowed me to focus on my coursework and to excel in my studies," Sabastian says. "Without it, I might not have been able to complete my time here at ONU."
The Doug and Renee Leuthold Endowed Scholarship in Engineering is awarded to Ohio Northern University students in the College of Engineering, with preference to students with a minor in business or entrepreneurship who have financial need.
Sabastian chose to major in mechanical engineering because, he says: "I have always been fascinated by how singular components can come together to create a cohesive device that has the potential to change the world."
He also pursued a concentration in aerospace engineering because the prospects of space for both commercial and practical ventures "are boundless."
As a boy growing up in Columbia, Tennessee, Sabastian always wanted to understand how machines work and how they can interact with the world. He credits a math teacher he had in middle school and his parents for inspiring him to become an engineer.
The future engineer is grateful for his ONU experience.
"Aside from having numerous opportunities to talk with individuals in the world of engineering and gaining different perspectives, many of the laboratory components of my typical engineering classes used equipment and software widely found in industry, giving me experience far beyond what a typical classroom setting could provide," he explains.
Understandably, Sabastian is aiming high.
"After graduation, I want to either enter the field of mechanical engineering as a propulsion engineer for an aerospace company or in a logistical position in some capacity."
And he has some insights for young people interested in engineering and looking for the right fit for college.
"I would say that mechanical engineering at times can be a great stressor in your life; however, you will meet many great people who will be alongside you in this journey, from the fantastic professors to many amazing friends. You won't feel like a number or a statistic in a registry; instead, people here will remember you far after you have graduated. That personability is hard to find anywhere else."