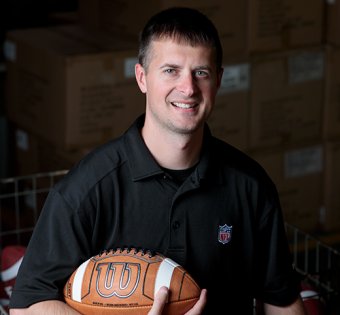 Ryan Ulrey, BS '07, who graduated from ONU with a Bachelor of Science in technology in 2007, has worked at the Wilson Football Factory for over a decade. Today, he's a manufacturing engineer at the facility who primarily deals with football graphics and customization.
In the past several years, Ulrey has literally left his mark on every Wilson football with stamped graphics on it – Super Bowl balls, commemorative balls, balls for the President of the United State and many more. He makes all the dies for logos that are stamped onto the balls, and he oversees other processes used to imprint images onto balls, such as lasering, ghosting and foil stamping. Of course, he's had to wear many other hats in his time at Wilson. He often assists with machine maintenance and other odds and ends tasks as needed – every day is different. His job has even sent him to Super Bowls and to the NFL draft to do custom work on footballs.
Ulrey's career with Wilson actually began while he was still an ONU student. His senior year, he worked there as an intern, and upon graduation, he joined Wilson full-time as a graphics technician. At Northern, he was introduced to basic graphic design and product design processes such as screen printing and etching, which made his transition to Wilson easier.
Ulrey has even been instrumental in piloting a brand new, customized football for high school and college football teams called the GST Prime. Thanks to him and Mike Springer, BS '99, another ONU alumnus and Wilson employee, Ohio Northern's football team became the first Division III football team to test drive the GST Prime footballs and accompanying technology.
"With ONU being here, we obviously look any time if we can help ONU, as far as helping our football team be better," he says. "It's always a positive too. I'm an Ada kid, so I grew up here and went to school here, and I live and work here now, so it's a big part of my life."