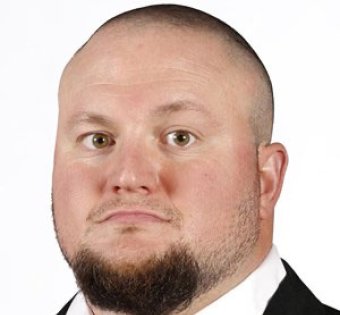 Rick Danison believes "a good coach can change your life." He aims to be that kind of influential mentor to the Big 10 football players he coaches at Michigan State University. 
"My favorite part of my job is the relationships," he says. "Seeing young athletes come in as children and watching them leave grown up, and knowing you had some effect on developing them." 
As a strength and conditioning coach, Rick helps Spartan football players maximize their athleticism on the field. He focuses on creating well-balanced athletes who are powerful, strong and have accelerative/deceleration capabilities. Also, he seeks to eliminate asymmetry and imbalances in athletes to minimize the risk of injury.
Ever since his childhood, Rick has been passionate about football and human performance. Before coming to Michigan State, he coached for ONU, Ohio University, the Cincinnati Bengals and Indiana University. He credits his illustrious career in part to "divine intervention," but mostly because ONU's rigorous program prepared him for success. "I can assure you that the knowledge base that I had in comparison to my peers in my profession coming out of college was paramount," he says. 
As an ONU student, Rick struggled with short-term memory dysfunction, so he had to study twice as long and hard as his peers. Overcoming this challenge, along with playing football at ONU, taught him perseverance and time management.
Reflecting back, Rick says he wouldn't change anything about his ONU experience. "ONU's football program and its coaches were second to none," he says. "Every one of us involved in the program were our brother's keeper. The professors and instructors were world-class, and the instructor-to-student ratio was unmatched."