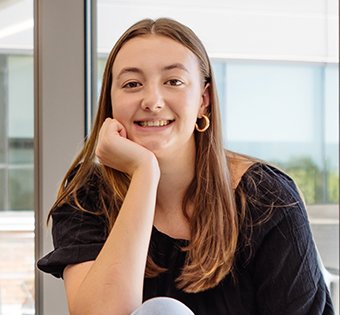 Civil engineering major plans a career in the water treatment industry
When Rachel Murray graduates in 2024, she wants to work in the water treatment industry so she can help people in underprivileged areas gain access to clean water and water resources.
"Clean water is something everyone should have access to, and I would love to use my degree to pursue something I am passionate about – and I am passionate about this," the civil engineering major says, adding that she has a minor in environmental science.
 From Westerville, Ohio, Rachel is the daughter of ONU alumni who inspired her career interests; her father is a civil engineer, and her mother has a degree in environmental science.
Her parents' love for their alma mater influenced her, as well. "Our family used to visit ONU for homecoming, and my parents often shared great stories. They also still see their college friends, which is something I want in my life, too."
Rachel appreciates the professional experiences ONU offers.
"ONU's engineering program is unmatched," she says. "From the start, you are exposed to real aspects of engineering such as CAD work, Excel, soldering, coding and so many other things that help you get a feel for what engineering is. It was so beneficial, and I can add them to my resume, which helped me to get and excel in an internship."
That internship has been ongoing.
"The past three summers and over breaks, I have interned at IBI Group in Columbus," Rachel says. "I've been able to help design water lines, pump and water systems and sanitary sewer lines. I also assisted with technical engineering reports and helped develop a roadway improvement plan, and I have been able to see both current and future job sites."
The sense of community ONU fosters is also a big plus, she says. "The College of Engineering faculty are so helpful, and they genuinely care about students. Also, the students have such a great bond, and everyone is willing to help and support each other along the way."
ONU College of Engineering returns the love to this enthusiastic student. During Honors Day last year, she received the Freshman Class Honors Award within the College of Engineering.
"I am proud to be an ONU student," the future engineer says. "I have had many opportunities to get involved and have met many people who share the same interests and passions."