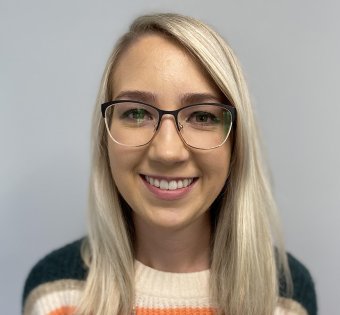 Pharmacy major Rachel Miguel hadn't initially given much thought to pursuing research as a career, but once the opportunity to complete research at ONU came along, she found a whole new world full of career options to consider.
In her fifth year of pharmacy school, Rachel was approached by Dr. Manoranjan D'Souza, associate professor of pharmacology, about an opportunity to assist him in writing a chapter in an annual publication called Side Effects of Drugs Annual. The chapter focused on the side effects of radio contrast agents and radiopharmaceuticals. She didn't know what to expect, but still, it was a valuable opportunity to learn something new and refine her scientific writing skills. So, she said yes, and now, she's so glad she did.
"I learned so much in the process of writing because prior to this research, I had little to no knowledge in this area of pharmacy. I truly enjoyed being able to be part of this project and am thankful for what I have learned about scientific writing from Dr. D'Souza," she says.
After graduation, Rachel hopes to complete a residency of some sort. Although she still isn't sure exactly what specialty she would like to enter, her experience working with D'Souza has opened her eyes to a newfound variety of career paths in pharmacy she hadn't considered before.
THE ABILITY TO RESEARCH AND WRITE SCIENTIFICALLY IS AN INCREDIBLE SKILL TO CARRY WITH YOU WHEREVER YOU END UP IN PHARMACY," SHE SAYS. "AS PHARMACISTS, WE HAVE TO CONSTANTLY KEEP UP WITH THE EVER-CHANGING DRUG LITERATURE IN ADDITION TO INTERPRETING AND APPLYING IT TO OUR PATIENTS. I HAVE GROWN SO MUCH FROM MY EXPERIENCE IN RESEARCH, AND I WOULD ENCOURAGE OTHER STUDENTS TO TAKE AS MANY RESEARCH OPPORTUNITIES AS THEY CAN DURING THEIR TIME AT ONU."