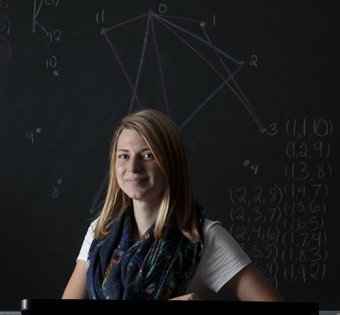 Mathematics education major Rachel Liebrecht learned firsthand that K-12 teachers can benefit just as much from research as scientists, engineers or pharmacists.
When Liebrecht was presented with an opportunity to complete a summer research experience for undergraduates (REU) studying graph theory at Illinois State University, she decided to take advantage of it. The REU included staging a math camp for Chicago Public School high school students, and, as a future teacher, she wanted to learn strategies for teaching math in an urban setting.
Graph theory is a type of mathematics that consists of collections of edges (lines) and vertices (points) arranged in ways that show patterns, connections and structures of various situations. Prior to the REU, Liebrecht only knew the basics of graph theory, but she was about to open up a whole new world of mathematical knowledge.
In just eight weeks, she learned complicated forms of graph theory and discovered aspects of graph theory that were previously unsolved. She was amazed by how many useful skills, resources and strategies she developed for teaching graph theory to students, as well as methods for tackling challenging mathematics topics in a high school classroom. She also built professional relationships and connections with future and current educators across the country.
Going in, she didn't know exactly what math research would be like, but it ended up being an incredibly constructive experience.
"My expectations were all exceeded!" she says. "This experience helped me build my mathematical confidence, learn new types of math that I can teach my students, practice strategies for teaching students from diverse backgrounds, and collect resources for teaching."