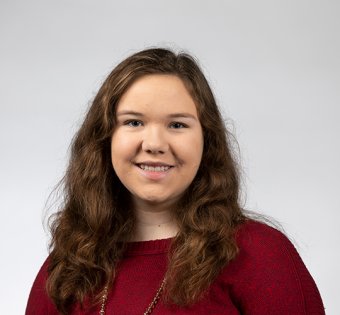 Music major Paige Stafford is one of the most accomplished music students at ONU. A talented clarinetist, she has capitalized on every possible opportunity to further refine her musical skills and play at the highest level attainable. 
Her college music career has taken her to places she never dreamed – from performing alongside the principal clarinetist of the New York Philharmonic to participating in an extremely selective international clarinet academy.
Stafford credits Ohio Northern with fostering her passion for the clarinet. When she first started college, she was not sure about majoring in music performance, but ONU's unique culture, which encourages both music majors and non-music majors to participate in musical groups and ensembles, won her over quickly.
She was a winner of ONU's concerto competition her freshman year and performed as a soloist during the Wind Orchestra's tour of Germany, Luxembourg and Austria, and she's also the principal clarinetist in the Symphony Orchestra and Wind Orchestra. She has been recognized for her musical achievements through various scholarships and awards, both at ONU and beyond.
Overall, her college experience has given her the confidence to reach her full potential and try things she never thought she could do. She aims to become a professional clarinetist, and thanks to ONU and her drive to succeed, she's well on her way.
"Ohio Northern University has given me so many opportunities to grow as a musician and gives me more and more reasons to love playing the clarinet every day," she says. "The environment at ONU is nurturing for students' talents. While other institutions may have fiercely negative competition, students at ONU tend to encourage each other to become better musicians rather than trying to demote their classmates. Plus, the professors at ONU are very accessible and genuinely care about their students' progress."