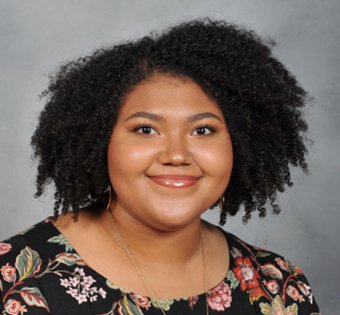 Ohio Northern University's biology pre-physician assistant program is what initially attracted Mya Ray to ONU, but once she came to Ada, Ohio, she discovered so much more – from putting her passion for diversity and inclusion into action, to adding a second major in psychology, to being crowned Homecoming queen.
Mya always knew she wanted to become a physician assistant, and she found the rigorous coursework and hands-on opportunities like cadaver lab to be exactly what she needed to prepare her. As her knowledge deepened, she also became intrigued with the psychological aspects of human health. "I realized how much your mental health can play a role in who you are, and the more I learned about it, the more I felt I would be a better PA understanding the physical and mental health of my patients," she says.
Outside of class, she became very involved in student organizations and extracurricular programs, including Delta Zeta sorority, Residence Life and Order of Omega Greek society. She also joined Sister 2 Sister, a new student organization for female students of color, and became part of the group's executive leadership. Throughout her involvement across campus, she looked for ways to share her passion for diversity and inclusion and educate others about its importance.
"Within my sorority, I have strived to educate my sisters, as well as the Greek community as a whole, about diversity and inclusion for Greek students," she says. "Alongside this, I had the opportunity to speak to orientation leaders on the importance of being inclusive and providing a safe and comfortable home for ALL our students. I also have been able to diversify our Residence Life and Bear Ambassador student jobs."
Overall, Mya is proud to be part of the Polar Bear community. While studying to be a physician assistant has certainly not been easy, the support system she has found at ONU has made all the difference.
COMING TO ONU FOR ANY MAJOR, YOU REALLY GET CLOSE WITH YOUR PEERS AND PROFESSORS, AND IT IS AMAZING KNOWING YOU HAVE THAT SORT OF POSITIVE ATMOSPHERE SO INGRAINED INTO THIS SCHOOL. IT REALLY LETS YOU FEEL READY TO MEET YOUR GOALS AND FEEL CONFIDENT IN YOUR CHOICE TO COME HERE."