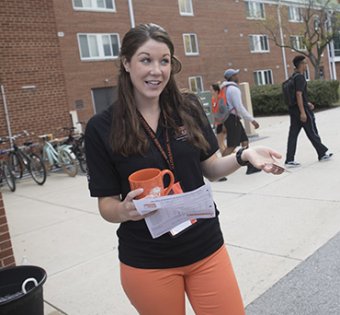 Community service has been a way of life for pharmacy major Monica Coupe. Her involvement in an independent project in ONU's College of Pharmacy combined her interests in community service and her academic pursuits.
Coupe was part of a team of students who worked with the Ohio State University Extension Office in Hardin County. Her involvement included designing and delivering educational presentations and screenings to Hardin County employees.
The College of Pharmacy's independent study program focuses on outreach, and it provides benefits to both the students and the area organizations involved. It was a perfect match for Coupe, who was largely drawn to the field of pharmacy due to her desire to help others.
"I want to make a difference and use my skills to help others," she says. "It is important to be part of something bigger than myself and to contribute to the community where I live."
Coupe also has been actively involved in residence life as a director of Founders residence hall. From this experience, she has learned how to lead others and solve problems within the campus community. 
"I love it at ONU. There is a great sense of community," Coupe says. "I have made lifelong friends, and I am confident I am prepared for the future."