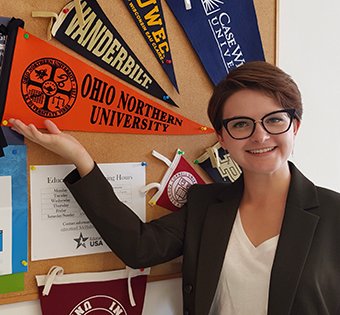 From a young age, pharmacy major Molly Ryan has been interested in other cultures, and Ohio Northern helped open doors to multiple opportunities for her to experience the world differently than she normally does. She actually chose ONU because she could pursue a language minor in addition to studying pharmacy.
During her third year of pharmacy school, Ryan applied for an internship through ONU's chapter of the American Pharmacists Association Academy of Student Pharmacists to go to Budapest, Hungary, over the summer to gain experience working in a small community pharmacy. The experience left such an impression on her that she decided she must return to Hungary again someday.
Thankfully, she didn't have to wait long. A year later, she was awarded a Fulbright US Student Program scholarship to provide health outreach services in rural and underserved areas of Hungary. The experience has not only given her an inside look into pharmacy operations in another country, but has also given her a new appreciation and empathy for those who experience being an outsider amidst a culture other than their own.
Studying French for her language minor at ONU also helped her know what to expect as she undertook the challenge of learning Hungarian, which is very different than the Romance languages. She already had an idea of the learning curve and knew it would take a lot of hard work and practice, but she also knew that it would help give her a deeper experience in Hungarian culture.
"Seeing a diversity of cultures shows different ways in which humanity manifests itself in the world, but most importantly, it has highlighted for me ways that everyone in the world is human," she says. "One of those ways – which was my main motivation to choose pharmacy – is that every single person needs care at some point, and it is our responsibility to contribute to that care."