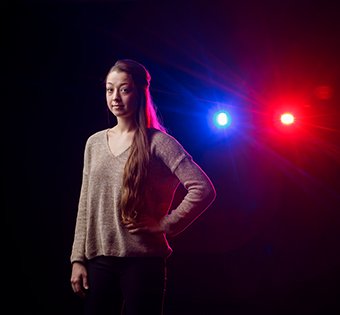 Between classes, sports and extracurricular activities, criminal justice and psychology major Melinda McIntosh is a busy student, but that doesn't stop her from making the most of every opportunity she's been given for high-impact learning and campus involvement.
After graduation, she plans on attending the police academy and becoming a police officer. Her inspiration to go into law enforcement came from her father, who started his career as a police officer when he was 19.
As a student at ONU, she interned with the Middletown Police Department, giving her great real-world experience shadowing officers during search warrants, arrests, dispatch and patrol ride-along.  
Going to ONU has been a wonderful experience for McIntosh so far. "ONU has helped me connect my passions with a purpose because I involved myself in organizations that aim to help others, and I choose to be very involved in these organizations because they all do so many things for our community and more," she says.
Some of the organizations she's involved with include track and field, Zeta Tau Alpha, Student Athletic Advisory Committee, Alpha Phi Sigma, Mortar Board, and Klondike's Crew. These unique experiences are often shared by many of ONU's students. 
McIntosh has tips for future students planning to go to ONU:
IF YOU WANT TO FIND A PLACE THAT YOU CAN TRULY FEEL AT HOME, THIS IS THE PLACE FOR YOU. ONU'S STUDENTS, FACULTY AND COMMUNITY MAKE IT SUCH AN INVITING PLACE THAT WANTS YOU TO SUCCEED TO YOUR FULLEST POTENTIAL AND AIMS TO PREPARE YOU FOR YOUR FUTURE ENDEAVORS WHILE HAVING THE BEST TIME OF YOUR LIFE."