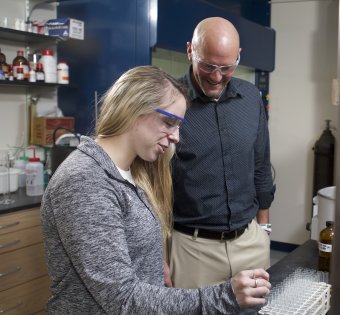 Megan Nieszala knew an REU would give her a glimpse of what life would be like as a graduate student. With the help of her ONU professors, she landed an REU at the University of Tennessee-Knoxville.
"ONU definitely played a role in helping me get this REU, because my résumé is filled with laboratory experiences that most undergraduate students don't have," she says. "At ONU, we get to use advanced equipment and have independence in the research labs."
During her 10 weeks in Knoxville, Nieszala worked alongside a professor and graduate mentor on a research project to find new, more efficient ways to produce linear low-density polyethylene, a flexible plastic.
"I grew as a chemist, developing better laboratory instincts and becoming more independent," she says. "I also enjoyed the chance to live in a new city and make new friends. It was scary at first, but well worth it. The other REU students and I became close, and we still stay in touch today."