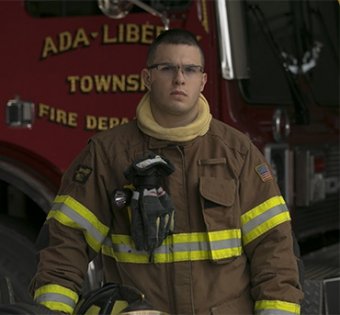 Missing the brotherhood he found in the military, civil engineering student Max Roberts discovered that bond as a volunteer firefighter with the Ada-Liberty Township Fire Department.
Roberts joined the Air National Guard at age 17, the summer before his senior year of high school. After graduating, Roberts attended Basic Military Training and Tech School for a year before enrolling at ONU.
He is now a fully certified firefighter in the state of Ohio. He admits firefighting is a difficult job. However, he has developed a sense of pride and responsibility for the Ada community.
The camaraderie of his colleagues in the fire department has not only helped Roberts connect to the community and University, but also shaped him into a better student. Working with the fire department has taught Roberts how to manage his hectic schedule and take advantage of the little free time he has. 
Most importantly, the fire department enables Roberts to be the best person he can. Each call affects him differently and teaches him life lessons he could never learn in a classroom. 
Roberts serves in the 200th RED HORSE Squadron of the Ohio Air National Guard and plans to continue volunteering with the Ada-Liberty Township Fire Department until graduating from ONU. 
"The No. 1 thing is service before self," he says. "The military molded me into who I am, and working for the fire department has refined me. This has become a big part of my college experience. The fire department filled a gap I never knew I had."