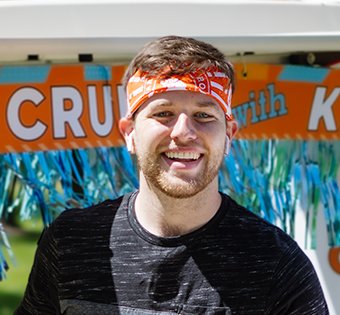 Music scholarship enables mechanical engineering student to pursue his many talents
There's nothing unusual about concocting pies without a recipe, carving pumpkins and taste testing local pizza. But doing all those things on camera while exhibiting impeccable comedic timing? That's out-of-the-ordinary for anyone but Matthew Dinnen, a.k.a. "Matty D," one of the hosts of "The Roar"--an ONU-centric video series made by students, for students.
Gregarious and possessing a great sense of humor, Matt is a student of many talents and interests. He enrolled at Ohio Northern University because he wanted to be able to explore all the facets of his personality in a supportive environment.
Financial assistance, including the Dorothy and Lowell Snyder Music Scholarship, made it possible for Matt to attend ONU, where he is studying mechanical engineering and doing so much more. Mr. Snyder established the scholarship in memory of his wife in 1991 with a bequest of over $2 million.
Matt says: "I have been blessed to receive financial assistance that allows me to focus on my education instead of how I will pay for my next year of classes. This financial assistance allows me to pursue other passions including musical performances, playing guitar, piano, drums and singing, which I will continue doing past my time at ONU." 
On campus, Matt has grown in his faith as a member of Northern Christian Fellowship and a Soldiers Bible Study Leader. He has developed his people skills as a Resident Director, and fueled his passion for music as a member of the University Singers. He's honed his mathematical and logical mindset building robotic football players. And, of course, he's a natural on camera, showcasing his outgoing personality as a host on "The Roar."
Matt's diverse campus experiences–plus two internships to date–means he will graduate with a stand-out resume. "I have been able to get involved in so many different organizations and have grown in so many areas," he says. "I really see it as diversifying my capabilities in order to get ready for the communities I will be able to touch and the future relationships I will be able to form after ONU."