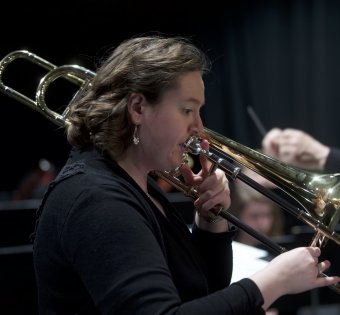 Maggie Bittner, BM '17, is the director of bands at Anna Local Schools in Anna, Ohio. There, she is responsible for directing the marching band; high school concert band; sixth-, seventh- and eighth-grade bands; pit orchestra; pep band; and jazz band. She also teaches second- and fifth-grade general music.
Maggie received her Bachelor of Music in music education in 2017 and graduated with honors. During her time at Ohio Northern, she performed trombone with the Marching Band, Wind Orchestra, Symphony Orchestra, Brass Ensemble and Jazz Band. Maggie was the assistant student conductor for both Symphony Orchestra and Wind Orchestra. She was a part of, and held officer positions for, Tau Beta Sigma, Delta Omicron and the Ohio Collegiate Music Education Association. One of her favorite pastimes was working as the instrumental music librarian for Wind Orchestra and Jazz Band.
"Ohio Northern gave me an education unlike anywhere else," she says. "By starting field experience during my first year, I was able to get into a classroom and receive hands-on experience teaching from the start. Additionally, conducting two of ONU's large group ensembles gave me confidence that I wouldn't have gotten anywhere else."
She also adds, "The best part about ONU is the relationships I was able to build. I wasn't known as a number. My professors not only knew me by name, but also really knew me. They knew my strengths, my weaknesses, my likes and dislikes, and, most importantly, they were invested in my success. Even now, my professors and colleagues check in on me regularly and want to see me succeed. I have gained lifelong friendships, mentors and family from my time at ONU."