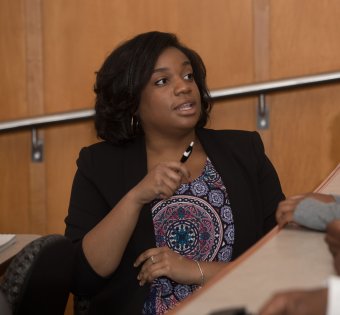 Madison Hudson has found ways to fuel her passions and find her purpose. With encouragement from past teachers, internal drive and opportunities at a small school, Madison has created an active and passionate lifestyle through which she will continue to fulfill her purpose in health care and beyond.
Madison is a smart woman with many talents and passions. Growing up, she was always described as a leader and someone who took care of everyone around her. Lucky for ONU, she decided to share those traits with the University community.
"When I came to ONU, I immediately felt the positivity and the passion for success – it was contagious," she says.
At ONU, she was able to find the unique pharmaceutical business program that matched her passions perfectly.
With a love for the medical field, but not a love for needles and blood, pharmaceutical business was right where she was supposed to be. With a passion for health care, the community and leadership, she hopes to one day become a marketing and community outreach manager.
She doesn't just stop at her studies. As a diligent student, Madison prioritizes experiences and opportunities that impact her and the community. She is involved in Women's Chorus, Gospel Ensemble, Residence Life, Black Student Union, Healthcare Business Association and Sister 2 Sister. And these are not merely activities to Madison. Each organization has helped her build different skills, such as leadership, networking, team building, event planning, musicianship and more.
But most dear to her heart has been the founding of Sister 2 Sister at ONU. Sister 2 Sister was created to bring African American women together and increase the retention of African American students. At ONU, it is open to all female students who want to be empowered, build each other up and encourage one another.
"I remember talking about Sister 2 Sister as a freshman, and now I am a senior. To see this come to fruition before I leave is a really big deal for me," she says. "I feel like I've left a legacy behind for future generations, and that brings me so much joy."
There wasn't a student organization to serve these needs before, and Sister 2 Sister has been able to positively impact other women on campus to feel confident and comfortable sharing their opinions and knowing who they are. Being the first school in Ohio with a chapter has really paved the way for what other schools and even small schools in the area can be a part of.
"I am passionate about helping other people, being a leader and creating music. ONU is an incredible University with top-tier opportunities that encourage students to become the best version of themselves possible, and I have absolutely been able to do that here," says Madison.