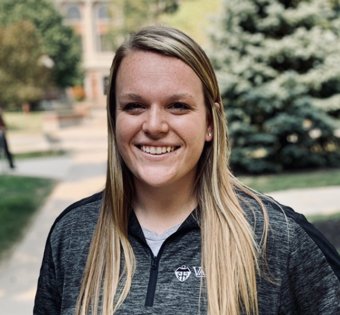 Upon entering college, psychology major Lydia Burnett felt drawn toward a career in which she could help others, but she thought her career options were limited. Her time at Ohio Northern University helped her to broaden her perspective and learn more about herself, leading her to a niche career field that is a perfect fit for her.
Lydia initially started out in the nursing program at ONU because she figured a natural first step to helping others would be a career in the medical field. But after taking a psychology class in nursing, she realized that there were many other ways to help make people well, emotionally as well as physically. So, she changed her major to psychology with a concentration in clinical counseling, and she's never looked back.
"I absolutely love the psychology program at ONU," she says. "I have learned not only so much about people and behaviors, but also so much about who I am. A therapist or psychologist has to know their own identity and culture in order to help others, and this program has helped me to do just that. The professors are so amazing, and they have helped me every step of the way to learn about myself and also how I can help people while using my strengths."
Switching her major also led to the discovery of a passion she never knew she had. In her first semester in the program, one of her classes gave her the opportunity to work with a group to create their own experiment. The experiment Lydia and her group developed led to significant findings, so they submitted their research project and were accepted into the national American Psychological Association conference. Unfortunately, the conference was canceled due to COVID-19, but Lydia and her group were still able to share their findings virtually with some of the leading psychologists in the United States.
"This experience is not a common experience in other colleges," she says. "I learned so much about research and hands-on learning that most students do not get to experience until graduate school. This helped me grow to love research and see the importance of research in everything."
This research experience will set Lydia apart from her peers after graduation, as she plans to pursue a Ph.D. in developmental psychology. Her dream career is to work with adolescents who have experienced trauma and difficult home lives and help prepare them for a better future.
I WILL FOREVER BE PROUD TO BE A POLAR BEAR," SHE SAYS. "ONU HAS HELPED ME BECOME THE PERSON I AM TODAY. I WOULD HAVE NEVER GOTTEN TO THIS POINT WITHOUT THE PROFESSORS, STAFF AND STUDENTS AT ONU."