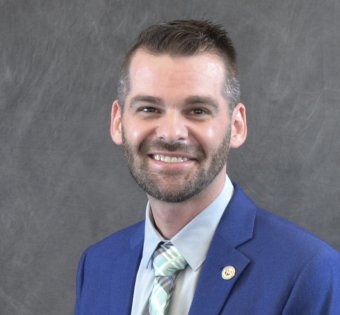 Having grown up in an Appalachian Ohio community, R. Logan Yoho, PharmD '10, knows all too well the struggles of living in a rural, impoverished area of the country. Now, he has devoted his life and career to helping this same population get out from under the shadow of medication deprivation as the director of pharmacy at Hopewell Health Clinics in southeastern Ohio, where he runs the clinics' 340B pharmacy program, a federal program that allows health centers and other covered entities to provide access to discounted medications to all patients.
It's regions like southeastern Ohio where the 340B program is so desperately needed. Largely isolated from the rest of Ohio, the area is extremely rural, and the poverty rate is high. For Hopewell Health Clinics, 47 percent of their patients are on Medicaid, and 10 percent are uninsured. For those patients with insurance, many are underinsured, holding benefits with high deductibles and low coinsurance. One hundred percent of the savings the clinics receive from 340B are reinvested into additional services to help patients, including hiring dieticians and providing onsite and mobile dental care.
Yoho has seen the personal impact of his work time and time again – the tears in a patient's eyes when they are able to afford their needed insulin, instead of having to ration it in small doses to make it last longer. Or the look on a patient's face when they learn they can replace their long-expired EpiPen for a few dollars instead of paying $600 for a new one.
It's no coincidence that Yoho's current surroundings often remind him of where he got his start in pharmacy. The small rural community of Ada will always be a second home to him. The compassion he feels for his patients and the satisfaction he feels every time he is able to help someone – these are all familiar experiences that stem back to his ONU days.
"We were encouraged to be active in our community," he says. "During our introductory classes, we were required to do some volunteer work, and I think that's so valuable because it just really instilled a caring, compassionate focus to a pharmacist education. And I think that's one of the things that really shaped me and made me so excited to come back to my community in southeastern Ohio and be able to help a group that sometimes gets forgotten about."
His heart still goes out to ONU pharmacy students today. He knows it's anything but easy to go through pharmacy school, and it's even harder when your career plans have to change. He remembers the devastation he felt when he wasn't able to match into a residency. But looking back, he realizes that he was meant to take a different path, and now, he wouldn't trade it for anything.
I think it's important – especially for pharmacy students – to know that your career is going to change so much. Don't turn yourself off to opportunities because you don't think it's something you'd be interested in," he says. "The opportunities you have throughout your career, and throughout your schooling career even, will shape and reshape your career path. And that career path is not something that is stagnant."