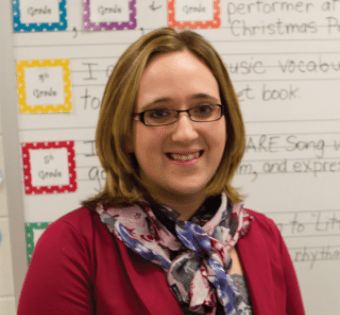 Lindsay Newlove, BM '10, loves her students at Crestview Local Schools in Convoy, Ohio, and they love her. She teaches K-6 general music, directs sixth-grade Swing Choir, and teaches her fourth-, fifth- and sixth-grade students how to play guitar.
The Ohio Music Education Association (OMEA) even recognized her outstanding work – honoring her with the Ohio Music Education Association's Outstanding Music Educator of the Year Award at the OMEA State Convention in Cleveland, Ohio, in February 2015.
At ONU, she was an associate conductor of the University Singers and assistant conductor of the Women's Chorus. She served as treasurer and president of ONU's chapter of the Ohio Collegiate Music Education Association (OCMEA). She also traveled to Estonia and Finland with the University Singers.
"I was fortunate to be taught by professors who loved sharing their knowledge and passion for music. They supported me throughout my four years at ONU, through my job search and into my first years of teaching," she says. "Now, I truly love each minute that I get to spend with my students. Whether it be singing, dancing, composing or playing instruments, I am fortunate to have the opportunity to share my love of music with children."