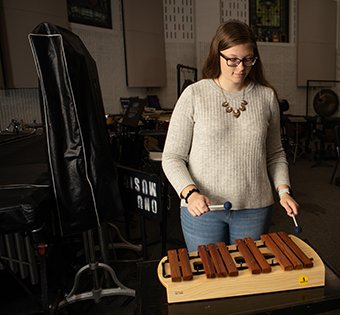 Music education and math education major Lily Brautigam has multiple passions, and one of her favorite things about ONU is how she can foster all of them and even draw connections between things that are seemingly different.
Growing up with two teachers for parents, Lily has an innate passion for education, and being raised in a very musical home, she knew she wanted music to be a large part of her college experience as well. At ONU, she has found outlets for all these things, both inside and outside the classroom.
From playing in musical ensembles like ONU Marching Band and Chamber Winds to participating in Zumba and yoga classes, Lily is assembling the college experience she always envisioned. One of her most memorable experiences was when she traveled with the marching band to Japan, where she performed, toured famous monuments and took in the breathtaking views of Mount Fuji. In her own words, "there is nothing better than traveling with your best friends and performing music in a different country."
Lily especially appreciates the diversity of different majors in the musical ensembles she's a part of. Since ensembles are open to everyone on campus (not just music majors), she's been able to build strong relationships with students from a variety of majors across campus – not just those in her own classes.
An added bonus for Lily has been her ability to make connections between subject areas she loves, such as music and math. She's passionate about majoring in both subjects and is constantly trying to connect the two. In her K-12 classroom field observations and research, she's discovered ways to use music in non-music classrooms. She's also received bolstering support in these pursuits from faculty members and academic advisors.
I'M PROUD TO BE AN ONU STUDENT BECAUSE I LOVE THE SMALL COMMUNITY ATMOSPHERE," SHE SAYS. "EVERYWHERE I GO, I SEE A FAMILIAR FACE. I AM PROUD TO BE A PART OF A SCHOOL THAT HAS A WIDE VARIETY OF MAJORS AND COLLEGES, AND I LOVE ONU BECAUSE IT'S WHERE I HAVE MET ALL OF MY BEST FRIENDS."