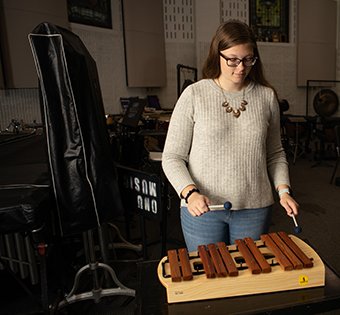 This future teacher will graduate debt-free, thanks to scholarship support
When music education and math education major Lily Brautigam graduates this year, she'll be debt-free, thanks to ONU scholarships that made her dream of becoming a teacher a reality.
Lily is the recipient of scholarships established at ONU long before she even thought about attending college. She received a scholarship from the Beall Snyder Student Aid Fund, established with a gift in 1974 in memory of a loyal music alumni, the Arthur and Marian Rudd Scholarships, established in 2003 through a bequest of over $3.4 million from Mrs. Rudd, and the Professor Henry Horldt Outstanding Music Performance Student Award, an endowed fund named for a beloved ONU professor.
"With a variety of scholarship opportunities comes a variety of educational opportunities. Scholarships not only help reduce the financial responsibility of college, but help fund opportunities for each student" says Lily.
Lily has multiple passions, and one of her favorite things about ONU is how she can foster all of them and even draw connections between things that are seemingly different.
Growing up with two teachers for parents, Lily has an innate passion for education, and being raised in a very musical home, she knew she wanted music to be a large part of her college experience as well. At ONU, she has found outlets for all these things, both inside and outside the classroom.
From playing in musical ensembles like ONU Marching Band and Chamber Winds to participating in Zumba and yoga classes, Lily is assembling the college experience she always envisioned. Some of her most memorable experiences include traveling with the marching band to Japan and being the featured soloist for a flute concerto with the ONU Symphony Orchestra. 
Lily especially appreciates the diversity of different majors in the musical ensembles she's a part of. Since ensembles are open to everyone on campus (not just music majors), she's been able to build strong relationships with students from a variety of majors across campus – not just those in her own classes.
An added bonus for Lily has been her ability to make connections between subject areas she loves, such as music and math. She's passionate about majoring in both subjects and is constantly trying to connect the two. In her K-12 classroom field observations, research and student teaching, she's discovered ways to use music in non-music classrooms.