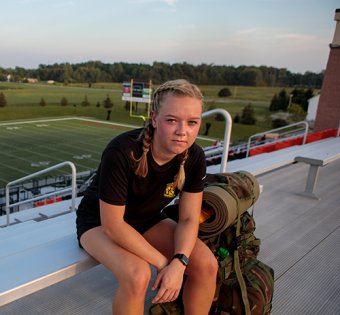 Focusing on both college and service to her country, Lilly Hirschfeld has a personal mission to make a positive difference in her world. She is a criminal justice major involved with Army ROTC, the Ohio Northern Veterans Organization and Delta Zeta sorority. 
"I believe I am in each organization for a purpose to help make myself a better individual and prepare myself for a great future," she says. "The Ohio Northern Veterans Organization serves as a way for me to give back to my community, spread awareness for those who risked their lives for our safety and give them the resources they need. Delta Zeta blesses me with a wonderful group of ladies who support me, accept me and care for me."
Lilly came to Ohio Northern for several reasons: it's close to home, she received an ROTC scholarship, and she simply fell in love with the University. ONU also holds a special place in her heart, as it was the place where her grandparents went to college and met each other. 
One of Lilly's greatest passions is serving and working with the U.S. Army, and she plans to serve in the Army upon graduation as an officer and pursue a career in law enforcement. Her inspiration to her path today is the desire to help others.
"Growing up I always wanted to help others. I understood that each individual has a lot to give to society and has his or her own place to do so," she says. "I believed, and still do, that selfless acts are critical to helping the world become a better place."
This leads to one of her most memorable experiences at ONU – putting on the 9/11 Stair Climb with the Ohio Northern Veterans Organization. "When I saw all of the participants, it made me so thankful and happy that we were able to spread awareness for the events that took place on 9/11," she says.
Lilly has strong advice for those considering coming to ONU in the future:
"Never tell yourself a dream is too big to accomplish. If you truly want something, you will find a way to accomplish it. Set your aspirations high and never stop until you reach them. Get involved as much as you can. This will set you up for success in the real world and allow you to make a difference. Follow your dreams and stay true to yourself. Never settle for anything less than your dreams; they matter more than any opinion from anyone."