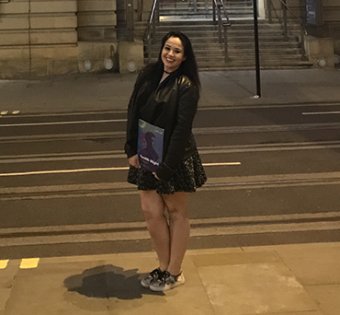 Musical theatre major Lexie Kilgore wanted to add something new and different to her college experience. She found it in the form of a summer internship in Manchester, England.
During her two-and-a-half-week internship, Kilgore worked at the University of Salford, assisting with preparations for its annual creative arts festival. She had traveled abroad before, but as a tourist. This time, her experience more closely resembled that of a temporary resident of the UK.
Almost overnight, she went from being part of ONU's small rural community to living in the United Kingdom's second most populous urban area. She lived and worked among Britons every day and became part of their world. There was definitely some culture shock at first, but she felt changed for the better by the whole experience.
"Travel is such a great experience not only for your education, but also for you as a person," she says. "I've grown so much. My view of the world is so different, and so is what I personally can accomplish and achieve."
She wanted something different, but she never anticipated just how much traveling abroad would enhance her ONU experience. And to top it all off, she came away with lessons and memories that will last a lifetime.