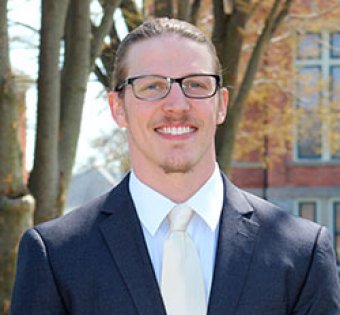 Enthusiastic and intense, Kyle Gilbert, the head strength and conditioning coach at Tiffin University, brings out the best in athletes of all stripes. "I love that I get to be myself every day," he says. "I bring that energy and passion to every session and use it to fuel our kids." 
Kyle coaches student-athletes in all sports at the NCAA Division II school in northwest Ohio. The athletes possess different backgrounds, motivations and attitudes. Kyle creates training programs to enhance their performance, develop their athletic potential and prevent possible injuries.
Under his tutelage, Tiffin's student-athletes make tremendous strides and achieve their goals in human performance. But the learning goes both ways, says Kyle. "The students I work with help me to grow as both a coach and a person."
Growing up in a family of coaches, Kyle became involved in sports early on. He came to ONU to play football and to delve into the science behind human performance. While at ONU, he found mentors who inspired him and abundant opportunities for hands-on learning, including creating training programs, working one-on-one with "clients" and serving as an assistant strength coach at the end of his senior year.  "ONU developed me as a person, a student, a teammate and a professional," he says.
After graduation, Kyle obtained an internship with The Ohio State University football team. He then returned to ONU briefly in a coaching role before taking a graduate assistantship position at Ball State University, where he received his master's degree in athletic coaching.
Looking back, Kyle credits his successful career to what ONU Head Football Coach Dean Paul calls "The ONU Advantage." "ONU gives you opportunities and resources to get your foot in the door, but ultimately you need to create your own story and success," says Kyle. "You will meet a number of people [at ONU] who will guide your progression. Take time to listen to their words of wisdom, and remember to thank them when those words come to fruition. The Polar Bear family is vast, and truly cares about you."