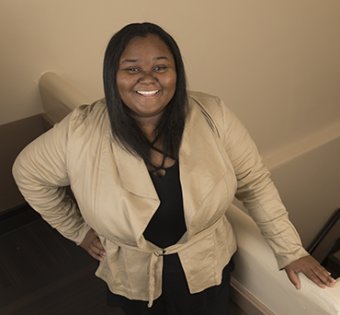 For Ky'la Sims, BA '18, Ohio Northern set the stage for an amazing career in political science. Just a few short years after leaving Ada, Ohio, she now has a master's degree in political science and is in the process of earning her Ph.D. in political science from Purdue University.
Ky'la's connections at Purdue actually began when she was still at Ohio Northern. She transferred to ONU as a freshman political science major with junior-level credits, and one of her first courses was a comparative politics class with Dr. Ñusta Ko. Ko noticed that Ky'la was really taking an interest in American race relations and identity politics, so she introduced her to a research article on the topic by Dr. Rosalie Clawson, a political science professor at Purdue with whom Ko had worked extensively while earning her Ph.D. at Purdue.
With the help of Ko and ONU professor of political science Dr. Robert Alexander, Sims applied for the Summer Research Opportunities Program at Purdue for undergraduates and earned a coveted spot in the program. Coincidentally, she was paired up with Clawson herself as her faculty advisor. Sims spent the entire summer studying at Purdue, and the research topic that she and Clawson worked on gained high-profile attention and was even referenced in The New York Times.
Today, Ky'la is still working with Clawson after being awarded a Purdue doctoral fellowship. She acts as Clawson's research assistant for the ASPIRE research center, an engineering research center funded by the National Science Foundation to advance sustainable, electrified transportation. She is also working on research that examines the media portrayals of the democratic primaries.
After Ky'la earns her Ph.D., she aspires for a career in academia, preferably a tenure track position that will allow her to conduct research, as well as teach.
"I am so excited about where life is taking me next," she says. "I have always wanted to educate myself. ONU and Purdue have answered that prayer far beyond what I could have imagined."