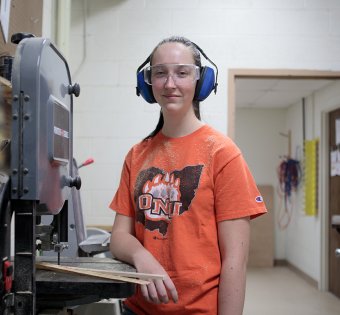 Mechanical engineering major Katelyn Keckler always thought she was cut out for a career in the health care industry, but she also had an aptitude for math. Coming to ONU helped her figure out how she could integrate both into a niche career path in biomechanical engineering.
Katelyn entered ONU as a biology major with plans to go to medical school, but she missed the fun challenge of tackling complex mathematics. So, she decided to change her major to mechanical engineering, but she didn't leave her biology interests behind. The anatomy and biology classes she had taken informed her understanding of mechanical engineering principles and how she could apply them in a health care-related field.
"From the get-go, I wanted to do something in my career to help people," she says. "That changed from being a doctor to being a biomechanical engineer. I just think about how amazing it would be to help someone who may have went through a traumatic event and be able to replace something they may have lost with a prosthetic."
Katelyn also came to realize that she wasn't the only person on campus with these kinds of interests. With the help of one of her professors, she played a key role in starting the Biomedical Sciences Design Team student organization. As one of the founders, she got to shape the organization into what she wanted it to be, and its members often work on projects that help people in the Ada, Ohio, and surrounding community. Her involvement in this group has left an indelible impression on her college experience and future career pursuits.
Katelyn's achievements at ONU have been nothing less than extraordinary. She was named a University Innovation Fellow by Stanford University's Hasso Plattner Institute of Design – one of 360 students from 90 higher education institutions in 13 countries to receive the honor. She's also been an asset to the College of Engineering Dean's Team and the ONU women's club volleyball team.
I AM PROUD TO BE AN ONU STUDENT BECAUSE COMING TO ONU HAS REALLY CHANGED WHO I AM AS A PERSON," SHE SAYS. "I HAVE GAINED THE CONFIDENCE I NEED TO GO OUT INTO THE REAL WORLD AND SUCCEED IN MY FUTURE CAREER AND ALSO JUST LIFE IN GENERAL. I WILL FOREVER BE GRATEFUL TO ONU FOR GIVING ME A GREAT COLLEGE EXPERIENCE AND A TON OF AMAZING MEMORIES."