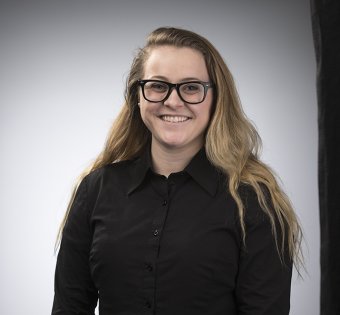 Starting out, pharmacy major Karielle Shaffery couldn't have anticipated just how central research would become to her college experience at ONU, and now looking back, she can't imagine what her time at ONU would've looked like without it.
Since her third year of pharmacy school, Karielle has conducted extensive research on Pharmacy Residency Teaching Certificate Programs (RTCPs), programs that instruct pharmacists in how to teach specialized topics in pharmacy. Alongside three ONU pharmacy professors, she compiled all the RTCPs in the state of Ohio, discovering the specifics of what each program entails, how they came to be and what their future direction is. The result of their efforts became a research article that was eventually published in the Journal of Pharmacy Practice, a peer-reviewed international journal.
But that wasn't where Karielle's interest in the subject matter ended. She wanted to help more pharmacy and pre-medical students learn about the possibility of a future in academia. So, she undertook a research project to create an elective course for the University. The aim of the course is to inform students of what a profession in academia looks like, thereby increasing student interest in the field.
"This research has been an integral part of my experience at ONU," she says. "I have met and created amazing relationships with the three professors I do research with, and they are some of the greatest role models I have ever had, especially in the realm of pharmacy. I have learned so much about what it takes to conduct research and, more specifically, about myself and what exactly I want to do with my future in pharmacy."
Karielle hopes to match into a residency after she graduates from ONU, and the fact that, upon graduation, she will already have multiple years of research experience and a major publication under her belt will certainly help her stand out from her peers.
Overall, she knows she wouldn't be who she is today without the positive influence of ONU.
ONU'S PHARMACY PROGRAM HAS BEEN A GREAT FIT FOR ME BECAUSE IT HAS AFFORDED ME THE OPPORTUNITY TO GET INVOLVED IN EVERYTHING THAT I AM PASSIONATE ABOUT. NOT ONLY HAVE I BEEN ABLE TO MAKE GREAT RELATIONSHIPS WITH MY PEERS, BUT THE SMALL COLLEGE ATMOSPHERE HAS ALLOWED ME TO CONNECT ON A DEEP LEVEL WITH A MULTITUDE OF FACULTY MEMBERS WHO SERVE AS GREAT ROLE MODELS. I KNOW THAT AN EDUCATION FROM ONU IS SOMETHING I WILL ALWAYS 'WEAR' PROUDLY, AS I TRULY HAVE FOUND MYSELF AND WHO I WANT TO BECOME AT THIS UNIVERSITY."