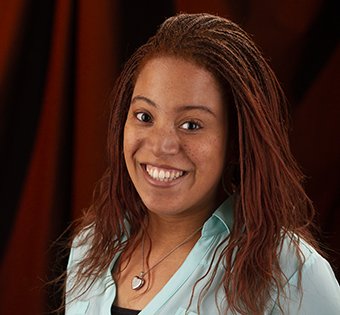 Ever since Kaila Lewis, BA '15, first stepped foot onto Ohio Northern University's campus, she knew she wanted to work in professional sports communications. As a communications associate for the Indianapolis Colts, she's living out that dream and putting her skills in sport management to good use.
In the Colts' communication department, Kaila does things like coordinating media interviews with players, editing team records after each game, and recording and transcribing coach and general manager interviews that go out to the media. She regularly interacts with NFL players and gets to see them in a different light.
"Building relationships with the players and getting to know them outside of what we see on the field on Sunday, Monday and Thursday has been great," she says. "You get to see them as dads after training camp practices, pranksters that will stand behind their friends during interviews and them stopping to sing 'Happy Birthday' to you after practice."
One of the things she likes most about her line of work is that every day is different. Within her first year working in the NFL, she's been part of a lot – from former Colts quarterback Andrew Luck's retirement to the very first all-virtual NFL Draft (due to COVID-19).
Kaila's time at Ohio Northern exposed her to multiple sides of athletic operations and gave her valuable perspective.
"In being a part of the sport management program, I was around athletes every day. So, that allowed me the chance to learn their schedule and know how many hours they put in during the week," she says. "As far as the public relations side of things, that's where the adjustment came in, because on the football side of the office, I am one of very few women that work with the team. But, having professors like Dr. Aggie and Dr. Fleck, I learned that I need to trust my voice and opinion."