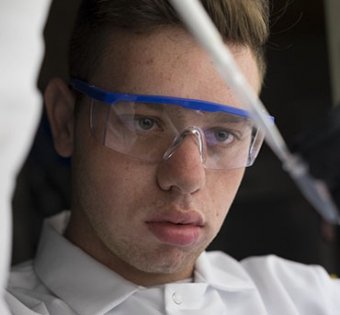 At the conclusion of his freshman year, chemistry major Justin Kindle completed an eight-week research opportunity on campus during which he worked with multiple faculty members seeking potential solutions to the algal-bloom problem plaguing many inland lakes.
Elsewhere, it's not necessarily a common thing for undergraduates to do real, substantive research. At Northern, it's the norm. Justin realizes just how rare it is – especially for underclassmen – to have such rich opportunities for hands-on, high-impact learning anywhere else.
"I think it's really unique to Northern to have hands-on learning like this. If I would have gone to a bigger school, I don't think I would have had these kinds of opportunities at all," he says.
Aside from the technical knowledge Justin acquired from doing research, he also came away with something else that's pretty special – strong relationships with faculty members.
"The faculty I studied under were really personal," he says. "They wanted to get to know more about me, and it was really nice to get to know my professors, too. They really care about you."