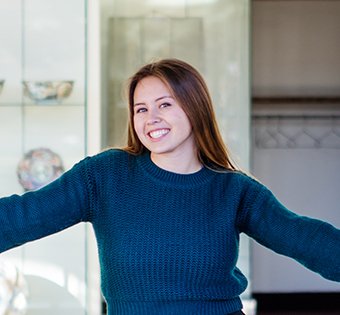 She's passionate about theatre, and grateful for scholarship support
As a recipient of the Class of 1994 Scholarship, senior Juliana Tate will be forever grateful.
"The scholarship has allowed me to attend a school that offers my bachelor of fine arts degree in addition to my minor in technical and administrative theatre," she says.
The Class of 1994 established the scholarship to provide one merit-based and one need-based scholarship to seniors.
Juliana, from Cleveland, is majoring in musical theater. She is co-captain of the university's comedy troupe, Fearless Shen-ANY-gans, and is involved with Theta Alpha Phi.
"I was lucky enough to get into Fearless my freshman year, and I have been the co-captain for two years," she explains. "I love getting to create in a supportive group and share with the university community in our monthly shows."
She chose ONU because of the conservatory-style performance training and professional-grade productions.
"I could dive immediately into backstage and administrative theatre roles," she explains. "I have discovered a passion for stage management I never would've found had I attended a larger performance school. I also love the resident and guest artists we work with in production practicum. We put on work I can be proud of."
The theater major says ONU has given her the opportunity to stretch her wings.
"I have worked in different capacities on productions, including wardrobe head, light board operator, assistant stage manager and stage manager as well as my on-campus work-study jobs to prepare me for a professional environment," she notes. "The faculty running the productions are diligent in mirroring union rules, so we are ready to transition."
After graduating, Juliana hopes to work in theater in whatever capacity she can.
"I grew up a performer and I love performing," she says. "My goal is to be able to walk into a theater and be able to say, 'What do you need done?' and then do it."
Juliana has a message for future ONU students: "Take advantage of the remarkable resources here. Sing your heart out in Presser, dance your toes off in Taft and go to office hours with your wonderful professors. It will really be what you make of it."
She also wants the scholarship donors to know: "I am not taking their investment lightly. I am squeezing every bit I can out of the opportunities I get at ONU, and I can't wait to break out of here and represent them well in my professional career."