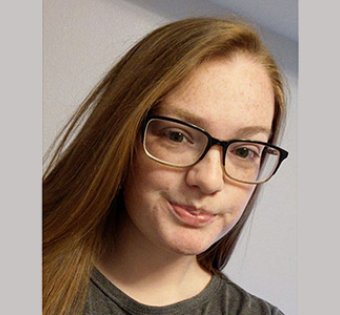 Junior engineering education major Josie Palmer always knew what she liked to do, but until she visited Ohio Northern, she didn't know she could go to school for it. After all, there isn't really a degree program for being handy, creative and helpful. Or so she thought.
Growing up, Josie enjoyed helping her dad with projects around the house. Together, they refloored bedrooms, built gardening boxes and landscaped rock paths around their property—to name but a few of the "cool things" they did together. In high school, the pair shared their talents and know-how with her school's marching band, building scenery and backdrops. Josie was also active in scouting and staffed many camps over the years. She connected with young people the way her father connected with her. Teaching them the things she knew came naturally, so when the time came to think about college and what she wanted to study, she first thought of becoming a math teacher.
A visit to ONU showed her that she could teach math and more through the engineering education program. ONU's engineering education major was the first of its kind in Ohio and one of the first in the nation. The program prepares students to become a licensed secondary math teacher with a specialized engineering perspective. This meant that Josie could receive a solid foundation in engineering, mathematics and education in a program that encourages a hands-on teaching style.
"After hearing more about all that we do and can do, I really fell for it, and have loved it ever since!" she says. "I want to be able to inspire and educate the future generations of our society to learn these skills, be able to think critically about their work, and to be proud of what they can use their creativity to create."
Josie is a true engineer at heart. While overseeing the archery range at scout camp the past two summers, she's taught scouts more than just how to draw a bow. She's taught them how a bow works, how different materials impact its performance, and how the energy is transferred from a person's arm to an arrow in flight.
"Not many people may think of archery as a STEM activity, but there is a lot of science and math behind it that makes me enjoy it a lot more! I love sharing extra little tidbits about archery with the campers because it allows them to learn new things and some stuff that people tend to overlook within this sport," she says.
It's important for teachers to be relatable, both to their students and to the course material. Through archery, Josie not only teaches her students how to do something, but she explains why doing it that way will produce the best results. It's the kind of next-level teaching ability that is just one of the perks of being handy, creative and helpful.